In the Steps of St Paul and St John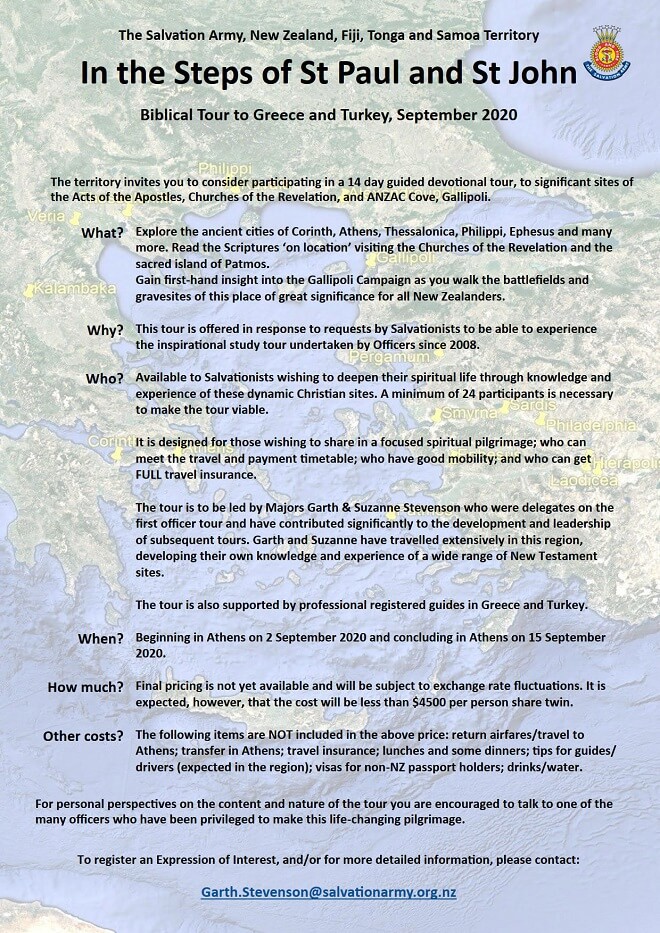 Biblical Tour to Greece and Turkey, September 2020
For personal perspectives on the content and nature of the tour, you are encouraged to talk to one of the many officers who have been privileged to make this life-changing pilgrimage.
What? Explore the ancient cities of Corinth, Athens, Thessalonica, Philippi, Ephesus and many more. Read the Scriptures 'on location' visiting the Churches of the Revelation and the sacred island of Patmos.
Gain first-hand insight into the Gallipoli Campaign as you walk the battlefields and gravesites of this place of great significance for all New Zealanders.
Why? This tour is offered in response to requests by Salvationists to be able to experience the inspirational study tour undertaken by Officers since 2008.
Who? Available to Salvationists wishing to deepen their spiritual life through knowledge and experience of these dynamic Christian sites. A minimum of 24 participants is necessary to make the tour viable.
It is designed for those wishing to share in a focused spiritual pilgrimage; who can meet the travel and payment timetable; who have good mobility; and who can get FULL travel insurance.
The tour is to be led by Majors Garth & Suzanne Stevenson who were delegates on the first officer tour and have contributed significantly to the development and leadership of subsequent tours. Garth and Suzanne have traveled extensively in this region, developing their own knowledge and experience of a wide range of New Testament sites.
The tour is also supported by professional registered guides in Greece and Turkey.
When? Beginning in Athens on 2 September 2020 and concluding in Athens on 15 September.
How much? Final pricing is not yet available and will be subject to exchange rate fluctuations. It is expected, however, that the cost will be less than $4500 per person share twin.
Other costs? The following items are NOT included in the above price: return airfares/travel to Athens; transfer in Athens; travel insurance; lunches and some dinners; tips for guides/drivers (expected in the region); visas for non-NZ passport holders; drinks/water.
The territory invites you to consider participating in a 14 day guided devotional tour, to significant sites of the Acts of the Apostles, Churches of the Revelation, and ANZAC Cove, Gallipoli.
To register an Expression of Interest, and/or for more detailed information, please contact: [email protected]