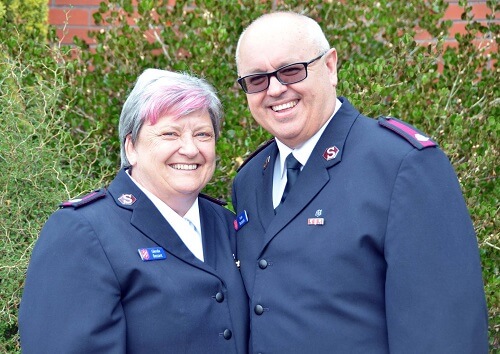 Appointed in 2019, Ivan and Glenda Bezzant are the corps officers for Hutt City Corps.
Find out more about our corps officers in this article from the War Cry magazine of the Salvation Army. Here's an excerpt to give you a small insight:
"We would say you can't walk with everybody, but you can touch everybody. Christ touched everybody, but he walked with the disciples. We carry a heart that wants to serve. Every day we want to touch everybody we meet … Ivan says …
But you can't do it all yourself. You have to have others,' Glenda finishes his sentence. 'That's how we've done our officership. A lot of people have been prepared to sit through the warts and all with us, and we've sat through the warts and all with them.
From when they started till today, the Bezzants have worked hard on 'making family a value', Glenda says. Everywhere they go, they see the congregation as their family. Some family members you don't get on with, but seeing them as 'family' helps build strong relationships. They also see their biggest reward as officers in building strong spiritual sons and daughters, she adds. 'We're passionate about seeing people transformed and living in the potential God has given them—and not discriminating against where they have been.'
Seeing those lives changed was what kept them going in ministry, and it was humbling when people said thank you for the impact they had made, Ivan says."