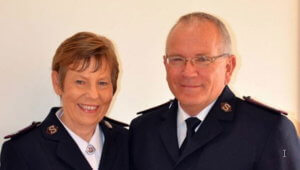 David and Vyvyenne Noakes are passionate Salvation Army officers/pastors who believe that every person has a unique personal potential that can only be fully reached in Jesus Christ. After nearly 40 years of Christian ministry they continue to be committed to the spread of the Gospel, the promotion of Christian holiness and sacramental living in every believer and the advancement of social care and justice. Their ministry has included the pastoring of eight churches, youth and children's ministry at a national level, oversight of the Army's Early Childhood Education programmes, ministry training of Salvation Army officers, aid development and capacity building in
Africa and Asia as well as leadership of The Salvation Army's work in Fiji. They have four married children and 14 grandchildren.
David and Vyvyenne are proud to be pastors of the dynamic ministry at Hutt City and extend to you a warm invitation to attend our services.