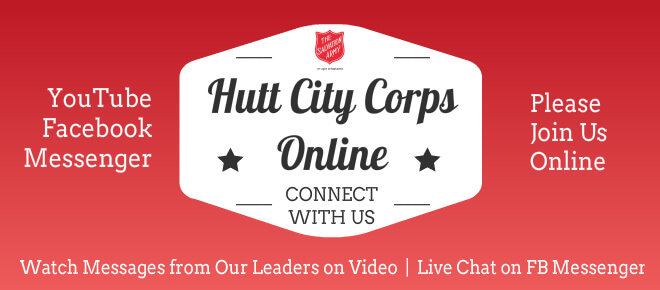 We encourage you to join with us in whatever capacity you are able, which now includes online.
Please connect with us by clicking any of the links below:
Corps YouTube Channel – contains messages and bible studies from our leaders.
Facebook Page – Encouragement and links to various information and resources.
Messenger – connect with us through FB Messenger
Worship Music – This is what we are listening to every day, and you are encouraged to as well.
Kids Facebook Group – If you are a member of our kids' church then you can send a request to join this private group.
Kids YouTube Channel – Join Brent and the kids for some fun!
Send us an Email – if your enquiry is not urgent you may like to send us an email.
Should you not be able to connect with us online, but still need to contact the Hutt City Corps Salvation Army office and Community Centre please call in to see us or phone (04) 570 0273 between 9am and 3pm Monday to Friday and your call will be answered.